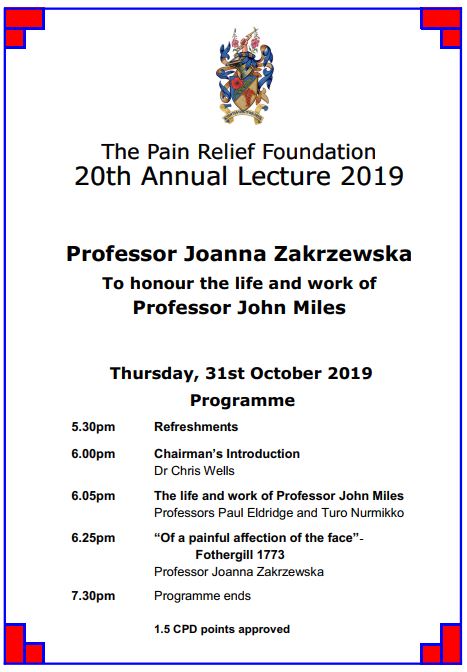 Event Timeline
Date: October 31, 2019
Time: 17:30 to 19:30
Place: Wolfson Lecture Theatre, Clinical Sciences Centre, Aintree University Hospital , Liverpool  L9 7AL
The Pain Relief Foundation started the Annual Lecture as a Millennium project. Each year an eminent pain physician or scientist is invited to lecture on a topic currently of interest, in pain research or management. The lecture is given each year in honour of a person who contributed much to the field of pain treatment or research during his or her career. A short presentation about their life and work is given before the lecture by a fellow academic or clinician.
The inaugural lecture was given by Russell Portenoy in the year 2000.
Continuing with the theme of Annual Lectures in which we explore all aspects of chronic pain, the 2019 Lecture
"Of a painful affection of the face"- Fothergill 1773 will be presented by Professor Joanna  Zakrzewska who is a Facial Pain lead consultant at EDH since April 2007, Hon. Professor at UCL.  After obtaining dental (King's College London) and medical (University of Cambridge) degrees and specialist training in oral medicine Joanna gained an MD in trigeminal neuralgia and a personal chair in facial pain. She held an academic post at the dental school at Queen Mary, London for 10 years before moving to her present post.  Joanna was the first non-anaesthetist to become a member of the Faculty of Pain Medicine. She has written four books and contributed chapter to 15 books, and written over 100 peer-reviewed papers, as well as lecturing nationally and internationally.
The 2019 Annual Lecture will take place on Thursday 31st October and will commence at 6.00pm. Click here to see the full announcement
The Lecture will take place at the Clinical Sciences Centre at University Hospital Aintree and refreshments will be served from 5.30pm. This Lecture will honour one of Walton's own Pain Neurosurgeon and founders of the PRF Professor John Miles.
Delegates may claim a maximum of 1.0 CPD credits for attending the event
If you wish to attend, please register with:
Mrs Brenda Hall, Pain Relief Foundation, Clinical Sciences Centre,
Aintree University Hospital , Liverpool  L9 7AL
T: 0151 529 5822  F: 0151 529 5821
b.hall@painrelieffoundation.org.uk