WELCOME 
Who is the group for ?
Pain Relief Foundation Social group is open for chronic pain sufferers and their carers.
How often and where ?
We run an in person meeting at least once per calendar month within our library on the 2nd floor of Clinical Science Centre, University Hospital Aintree L9 7AL. (Lift access is available).
Contact: 
jo.stephens@painrelileffoundation.org.uk
---
MEET A FEW OF OUR SOCIAL GROUP MEMBERS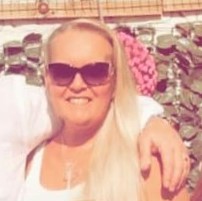 Karen Jenkinson (aged 50) has suffered with chronic pain for most of her life. As a schoolgirl she suffered with pain in her legs & back, & was diagnosed st 8 years old with Fibromyalgia. Her treatment then was to take paracetamol, use hot water bottles & stay active. She was keen on sport, swimming, running 10k, karate, her favourite activity was horse riding. Karen lives with daily frustrations of wanting to do things, but her body simply can't cope, symptoms of tiredness, pain in her legs, hips,back, feet & more recent hands. Her temperature fluctuates between hot & cold, she is often found most comfortable with a brew & her hottie (hot water bottle). Of recent Karen has terrible brain fog, she feels like she is loosing her mind & thought it was early onset of dementia. She says having an invisible illness feels like she's looked down on, not believed. Daily activities go out of the window as she never knows what or how she feels on a daily basis. Karen has found great comfort from the social group & often her hubby Andrew comes too.
Susanne  Walkden (aged 53) starting visiting a GP Back in 2006 complaining of heavy joints & generally not feeling herself. She was told it was down to weight & went on to lose over 5 stone, but still suffered with aching. She hit life traumas as most of us do & was put on further medication. In 2014 she was diagnosed with Fibromyalgia, anxiety & depression. She wanted to show the two faces to a hidden disability such as Fibro. Her hope is that people try to understand that people who look OK on the outside are not always ok. Asks that people take time to listen & understand, that not everyday is the same. She is most pain free in a Hydrotherapy pool. It's the correct temperature to relax & a restful sleep usually follows a treatment. Unfortunately there are not many accessible. Chronic pain takes over life. She attends most meetings in person & enjoys catching up with other sufferers which have become good friends.
Sophia Erskine (aged 34) Due to complications at birth Sophia was diagnosed with quadriplegic cerebral palsy affecting all 4 limbs, mainly her legs, she has always been in a wheelchair, she underwent hip reconstruction at 4 & 10, at 28 she had a full hip replacement. Physical implications of always being a wheelchair user have led to many life threatening conditions. Septicaemia three times &  removal of coccyx. Sophia has medication for her pain relief but finds hydrotherapy is the best form of relief but its very difficult to access a pool regularly to help ease her pain. She continues with determination to raise more awareness of chronic pain & wants to raise funds to get a hydrotherapy pool built for PAIN sufferers. She would like to see more support to stop conditions getting worse. Sophia has a passion for drama & has brought a few techniques to our group to help with confidence too.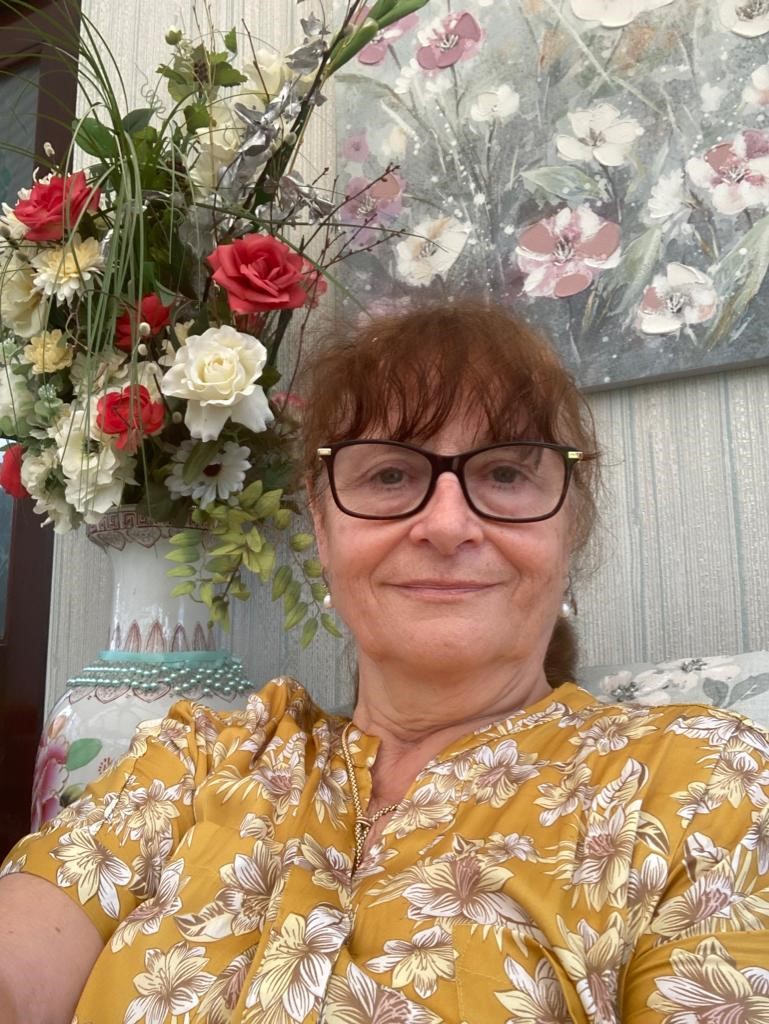 Hazel Caulfield (age 70) started with chronic pain many years ago after falling through a ceiling. She continues to suffer with back problems, slipped discs, damaged coccyx & her sacroiliac joints cause great pain & sciatica, which causes her leg to constantly give way. Hazel has undergone over 40 cortisone injections in her spine, joints & coccyx manipulation. She still today suffers but also has anxiety, depression & migraines. She was diagnosed with PTSD & Fibromyalgia due to all the trauma, her symptoms change daily, some days unable to hardly function or leave the house. She finds the social group a great support, somewhere to talk & not be judged.
CHRISTMAS RAFFLE PRIZES APPEAL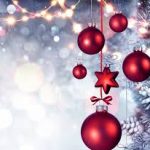 We know that its only just September but we need YOUR HELP .. We want to make our annual Christmas Raffle bigger and better than before. Can you or your employer/business help us ? Local Restaurants, Shops, Gyms, Small independent business's can you help us? We will give you a shout out on our social media platforms and our website. Every penny raised goes to supporting research into chronic pain conditions and finding new treatments.
Please contact Jo on 01515295824 (tues/weds) or email jo.stephens@painrelieffoundation.org.uk.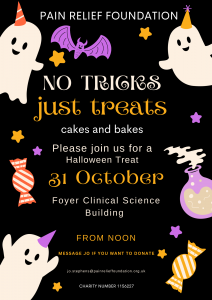 31st OCTOBER MEETING/ HALLOWEEN EVENT
Our next social group will be a little different, come for a cuppa from 10:30 then from 12 noon we will be selling our freakishly good cakes and bakes to raise some much needed funds. We have some donations from a local well known bakery too.. If I said 'sausage roll' you may guess, or if you'd like to bake.. bring them on the day.. Clinical Science Centre Foyer. We will also be collecting raffle prizes for our Christmas Raffle and selling tickets too.
SEPTEMBER SOCIAL GROUP MEETING
Our guest was Barb McCaffrey talking to us about MLD – Manual Lymphatic Drainage Therapy,
Barb is based around Lancashire,Liverpool. Instagram is lymphaticdrainage_merseyside
Was a very interesting and informative meeting.. Thank you Barb for giving your time so freely.
UPCOMING VISIT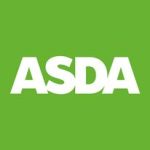 Tuesday 19th September : Asda Aintree are kind enough to have Jo back again sharing information leaflets about the charity & different chronic pain conditions. Time: 10am-1pm.
So if your shopping that day do say hi ..
AUGUST VISIT TO SID WATKINS

A Wednesday morning visit to Sid Watkins building to share information about the charity. Share a little about the monthly social group and the benefits of talking to others with similar ailments. Jo met quite a few younger people who where on the Pain Management Programme, Fibromyalgia seemed the most common amongst them. If you see her next month pass her your email and go on the social group email list, you will be informed of any future meetings or events.
AUGUST MEETING

A well attended meeting this month with more new faces. We had a guest in talking about prescription CBD Medication. Very interesting.
Disclaimer: Whilst we are happy for Rokshaw to come and talk to you as a third party, please note that we do accept any responsibility, liability or make any guarantee as to the effectiveness or accuracy of their content, services, or products.
JULY VISIT TO SID WATKINS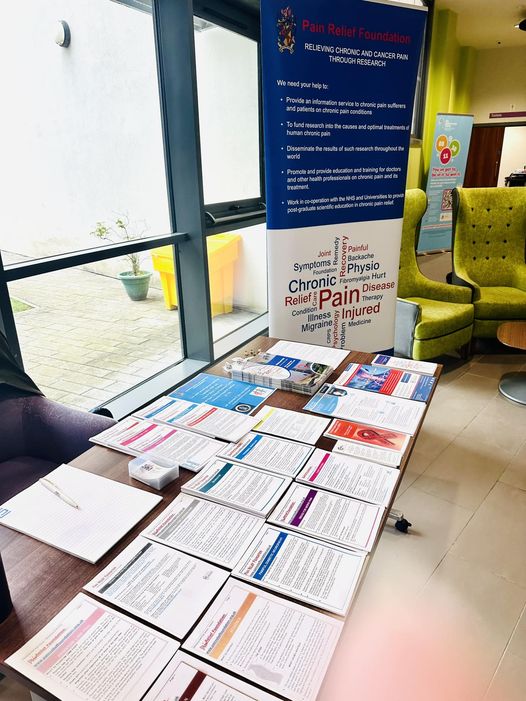 Jo visit's the Sid Watkins building once a month to share information about the charity and is happy to chat to anyone especially those that suffer with chronic pain conditions. Share a little about the monthly social group and the benefits of talking to others with similar ailments. Pass her your email and go on the social group email list, you will be informed of any future meetings or events.
So if you do see her please go say hi.
JULY MEETING
We welcomed new members to the meeting .. It's great to see new faces. We had a very informal brain storming few hours.. talking about TV & Film and how chronic pain  is portrayed on screen.. Not enough was the most common answer.
We talked about living in 'the moment' and to learn to appreciate the good days when the bad is overwhelming. We mentioned scaling each day from 1-10 . 1 being at your worst and 10 being a great day.. talking to your family and friends using this method helps them understand a little more on how your feeling.. try it.. let us know if it helps at all.
We talked about future meetings and what kind of guests/ activities we would like.
How we can support fundraising and simply sharing information about the charity helps spread the word a little more.
If you would like to help with supporting a meeting or doing a small event please do email jo.stephens@painrelieffoundation.org.uk 
JUNE MEETING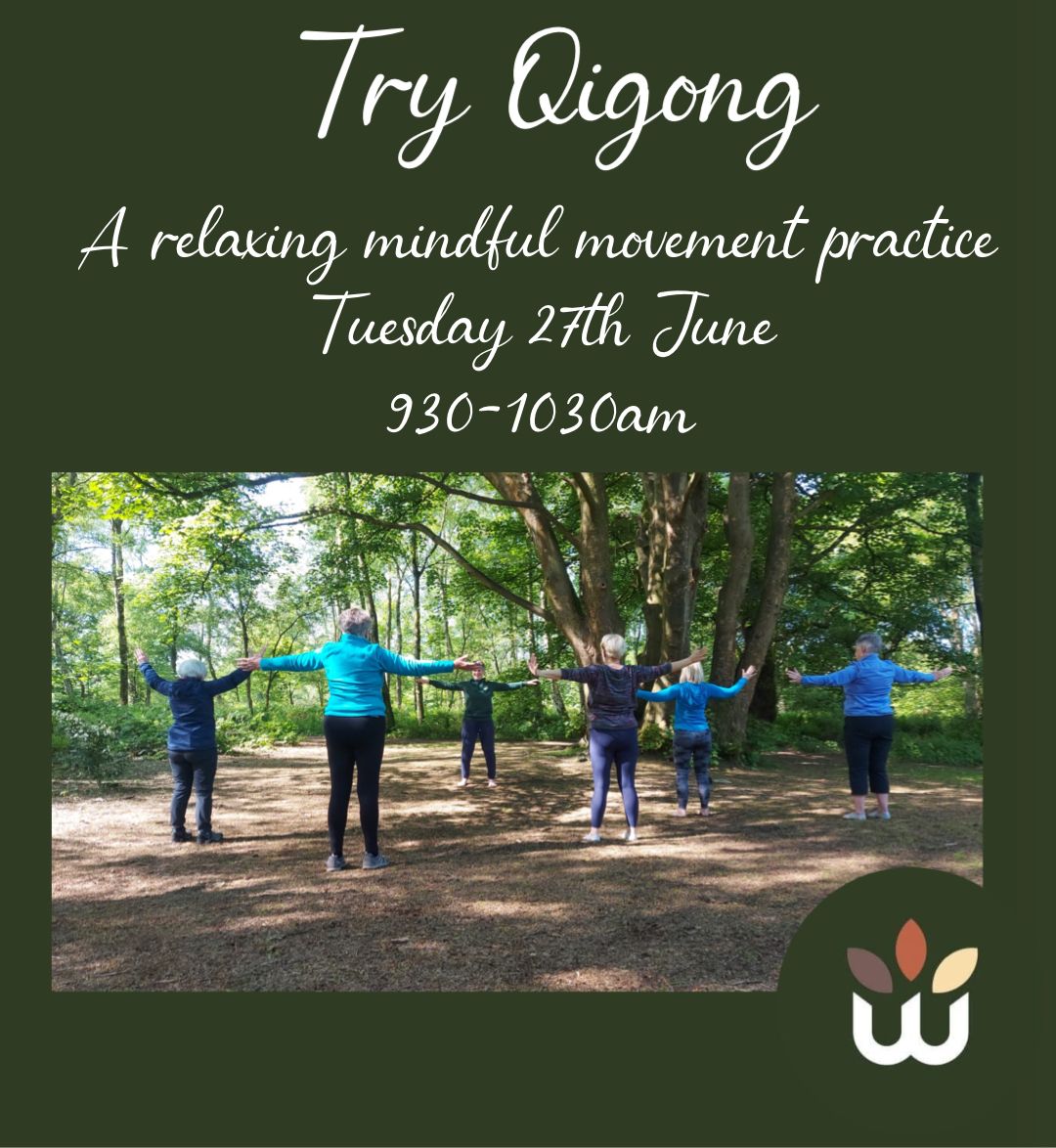 Our next meeting will be held on Tuesday 27th June with guest Nicola Barlow from Wuji Wellbeing.
If you would like to attend please let us know as space may be limited.  email  Jo on:  jo.stephens@painrelieffoundation.org.uk