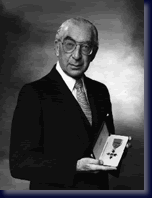 Founder of the Pain Relief Foundation, Sampson Lipton died aged 72 on December 6th, 1994. Sam was a pioneer in the treatment of chronic pain, an international figure in the pain world and a teacher and mentor to many pain doctors.
In 1953 he set up a Pain Relief Service in Liverpool despite encountering many administrative difficulties. Such was his determination and charisma. Sam was the director of Walton Centre Pain Clinic for nearly 30 years. In 1978 his work led to the founding of the Pain Research Institute.
Sam Lipton was Hunterian Professor at the Royal College of Surgeons in 1981; a Founder Member of the International Association for the Study of Pain and elected one of its first Honary members in 1989; First President of the World Society of Pain Clinicians (1984-1991) and Second President of the Pain Society of Great Britain. He was appointed OBE in 1984.
Founding Trustees
---
John Miles:

Founder and Trustee of the Pain Relief Foundation; Honorary Fellow of Liverpool John Moores University.

Board of Trustees

Chair

Mr. D. Cain, FRSA, FIoD, MHSM,  DipHSM, DMS

Mr David Cain is Chairman of the  Foundation and Trustee Committee having been
involved with the Pain Relief Foundation since 1991 when he was appointed first
Chief Executive of the Walton Centre for Neurology and Neurosurgery NHS
Foundation Trust.

David has held a number of NHS Chief Executive roles in the North West and was  previously
the Regional Director for Primary Care. His work for the NHS included being a Founder member
and immediate past Chair of the NHS Senior Managers Trade Union , Mangers in Partnership (MiP)
together over many years representing the NHS as an Executive member of the First Division Association
of Senior Civil Servants ( FDA) his work with both the Education and Charity sectors included Board level
appointments and Partnership engagements with both Manchester City Council and the
Manchester Universities.

David works as a Senior Management Consultant  and as a  National Strategic Advisor to Liaison Group
providing financial services, workforce and continuing care support to the NHS. He is Deputy Chair
and Trustee of  the Roughlee Care home for disabled Adults in Accrington, Lancashire and a
Trustee/ Governor at Bacup and Rossendale Grammar School.

Deputy Chair

Mr. P. Fell MA (Cantab), FRSA

A passionate community based volunteer, school and college governor and a serial
non executive director of arts and education bodies

My current roles include
Deputy Chair RSA, Treasurer- RSAA,Chair- Foundation for Science, Technology and
Civilisation Deputy Chair- Pain Relief Foundation, Secretary- Education Relief Foundation,
Chair- Audiences Connect, Director- Foco61 Group

Formerly
Chair- RSA North West, Chair- MOSI, Observer trustee- Science Museum Group
Council Member- Tate Liverpool, AuVice Chair- Audience Agency, Chair- All About Audiences
Chair- Arts About Manchester,Deputy Chair- Culture North West ,Chair- Node North West
Greater Manchester Youth Theatre- Chair of Deelopment Board and Trustee
Founder governor and chair of finance committee, Manchester College
Trustee- Greater Manchester Arts Centre- (Cornerhouse and Library Theatre)
Trustee- Manchester Central Library Development Trust ,Trustee- Ahmed Iqbal Ullah Education Trust
Trustee- The Monastery of St. Francis & Gorton Trust

Long term association with Community Service Volunteers (CSV) and Royal Society of Arts (RSA) in different roles

Trustees 

Miss Judith Daley, LLB (Hons)

Geraldine Thompson
An alumnus of Cardiff University Hospital, Geraldine spent a decade in Wales
in post graduate study which included a master's degree in Audio Visual Media
in Medicine. After completing her studies, she moved to Buckinghamshire and
spent another decade working at what was formally known as Buckinghamshire
Hospitals NHS Trust as a Senior Clinical Photographer, specialising in Research
Dermatology (including private research practice with L'Oréal Paris, Johnsons &
Johnsons and Neutrogena), Ophthalmology and Child Bereavement photography. Whilst working
in the hospital, in the evenings Geraldine delivered adult education classes in arts with
Buckinghamshire County Council who also paid for her to undertake my certification in Adult
Education. She also found the time to take advanced leadership and business management
qualifications with Buckinghamshire University and worked as a freelance trauma incident
photographer, as well a London Club photographer.

From there she moved to work for Hillingdon PCT with 'Imaging UK' as the Regional Team
Leader across Northwest London delivering front-line Diabetic Retinopathy Clinical Screening
Services across the London borough until I secured my current post, 16 years ago, in Manchester.
Geraldine is now serving in Senior Management at Manchester University NHS Foundation Trust (MFT)
as Services Lead overseeing the Clinical Photography and Medical Illustration Services.
In addition, since joining MFT she became a Governor, a STEM
(Science Technology Engineering Mathematics)  Ambassador advocating for women in
science by also volunteering my time as an NHS Career Ambassador and Healthcare
Science advocate. She is a newly qualified Coach/Mentor and could be soon volunteering her
coaching skills at the Emmeline Pankhurst Centre at Oxford Road, Manchester. She has won
many an industry award for her photography and illustrative skills (she is an artist too)
over the years, including finalist at the Wellcome Trust Science Imaging Award, she is published
in various industry journals and has a decent social media profile with a professional industry based following

Professor Michelle Briggs, PhD RGN

Professor Michelle Briggs was appointed to the Florence Nightingale Foundation Chair
in Clinical Nursing in January 2017.This post represents a partnership between the
University of Manchester, Manchester University Hospitals NHS Foundation Trust
and the Florence Nightingale Foundation. Professor Briggs joins the Trust from her
previous post as Professor of Nursing at Leeds Beckett University, where she was
Co-Director of the Centre for Pain Research.  She has worked clinically in orthopaedics and
trauma intensive care in Nottingham and London before moving to Leeds
where she worked in practice development at Leeds Teaching Hospitals NHS
Trust and Leeds Community Healthcare.

Her research is contributing to a greater understanding of the difference nurses can
make for people in pain. She has an international reputation for her research in
wounds and pain and she works closely with colleagues in the NHS and patients
to ensure that her research addresses important questions for patients and for
clinical practice. Her research has been used in NHS practice and policy
guidelines nationally and internationally. Her current research programme has
two themes – improving patients' experience of pain management and addressing
inequalities in pain management particularly for those in pain
who are marginalized or where pain may go unrecognised.

Professor  P. Eldridge, MA, Mchir, FRCS

Professor Eldridge was a Consultant Neurosurgeon at the Walton Centre Liverpool
before retiring in 2019. He was Clinical Director of Neurosurgery, Pain and Critical
Care for ten years at the Walton Centre, Secretary to the Society of British
Neurological Surgeons and editor of the British Journal of Neurosurgery and
past President of the UK chapter of the International Neuromodulation society.

His specialisms include trigeminal neuralgia, chronic pain, epilepsy, movement disorders,
tumours and neurovascular surgery. He has published and presented extensively on
these subjects, nationally and internationally. He is Professor of
Neurosurgery at the University of Liverpool and he is co-author of
textbooks and chapters of textbooks.

Professor  Francis McGlone

Professor Francis McGlone is the head of the Somatosensory &
Affective Neuroscience Group at the School of Natural Sciences &
Psychology, Liverpool JM University and Professor in
Neuroscience at LJMU. He is also Visiting Professor
at the University of Liverpool. His primary area of academic
research is characterising the role of afferent c-fibres in
humans, investigating their role in pain, itch (for which an IgNobel prize was
awarded!), and more concertedly the functional and affective properties of a novel
class of c-fibres – C-tactile afferents – hypothesised to code for the pleasure of
intimate touch. Techniques used in this research span single unit recordings with
microneurography, psychophysical measurements, functional neuroimaging,
behavioural measures, and psychopharmacological approaches to investigate the role
of the brain transmitter serotonin in affiliative and social touch.

A long term association with the Sir Peter Mansfield Magnetic Resonance Centre
(University of Nottingham) using ultra-high-field fMRI (7T) to further explore the
central representation of somatosensory inputs to the brain. A pioneering
development here is to couple INMS, during microneurography on single
mechanosensitive afferents, with concurrent fMRI acquisition. This is enabling to
study cortical representation at the single untui level and somatosensory cortical
dynamics.

Dr. T Nash, MBBS, RCOG, FRCA, FFPMRCA

Dr Tim Nash a Consultant in Anaesthesia and Pain Medicine, Basingstoke
District Hospital, 1976-1995 Consultant in Pain Medicine, Walton Centre
for Neurology and Neurosurgery, 1995-2006 Honorary Senior Lecturer,
University of Liverpool, 1996-2011 (Honorary Director of Pain Studies,
Member Admissions Group, Medical School) Mersey Regional Advisor in
Pain Medicine, Royal College of Anaesthetists 2003-2007 Honorary
Member, British Pain Society and was also Assistant Secretary 1982-1985, Secretary 1985-1988,

Committee member 1989-1992, President elect 1992-1994,President 1994-1997 and Immediate
Past President 1997-1998) He was  the founder editor IPS Forum 1982-1985, now Pain News,
newsletter of the Pain Society Editor, Frontiers of Pain 1988-1992 Assistant Editor, The Pain Clinic,
1989-1995 Lead consultant (Chairman) Pain Specialty Working Group, Clinical Terms Project
1992-8 . Member, Pain Specialty Casemix HRG Working Party, 1995-8, NHS Executive IM&T Strategy.
A Member of, Council (1994-1997); Scientific Committee (1998-2000); Chairman of the Task Force on
Educational Standards (1994-2000), European Federation of Chapters of the International Association for
the Study of Pain.

 Dr. M Sharma, MBBS, MD, FRCA, MSc, FFPMRCA

Dr Sharma is the clinical lead of the Department of Pain
Medicine at The Walton Centre and has been in practice in
chronic pain management for the past 10 years.

He is actively involved with the British Pain Society and the Faculty of
Pain Medicine of the Royal College of Anaesthesia in various
educational and research activities.  He has been the organiser of several successful

UK pain meetings and has many research projects ongoing at the moment. He has
edited the specialist handbook on 'Practical Management of Complex Cancer Pain'
published by the Oxford University Press in February 2014.
He has a special interest in cancer pain management and has very links with the local Hospice
and Palliative Medicine. He holds a weekly joint cancer pain clinic to offer advanced
treatments to relieve pain ranging from spinal infusions, spinal neurolysis to complex
neuroablative techniques such as cordotomy.

Dr. J. R. Wiles, MB, BS , FRCA, FFPMRCA

Dr John Wiles specialised in Pain Medicine from an anaesthetic
background.  He was the Clinical Director of the Walton Pain Service
from 1995-2011 and is currently a part time Pain Medicine Consultant
at Walton Centre.

Dr Wiles set up and chairs the Pain Relief Foundation Education
Committee, for which he was awarded an Honorary Fellowship by the
Pain Relief Foundation.

Dr. J. C.Wells, MB, ChB, LRCP, MRCS, LMCC, SRCA, SIPP

Dr Wells was a consultant in Pain Medicine at the Walton Centre NHS
Foundation Trust, Liverpool. . He is recognised for having pioneered UK drug delivery
systems and Pain Management Programmes (PMPs) in Europe, setting up the first
continuously running programme in Liverpool, 1983.

His clinical interests include assessment and management of back andneuropathic pain. Due
to his expertise he has been an invited lecturer at national and international plenary sessions
and workshops, giving in excess of 1000 presentations including the annual BPS lecture,
2008 and EFIC special lecture in memory of David Niv, 2009. Dr Wells was President of the
European Pain Federation, EFIC, from May 2014 to September 2017. He initiated a
multidisciplinary core curriculum in Europe, leading to a Diploma in Pain Medicine (EDPM)
for all medical doctors.

He has been Secretary of the British Pain Society and was made an Honorary Member of the
Society in 2007. He co-founded NeuPSIG, a Special Interest Group of IASP© and was made
an Honorary Members of this group in 2010. He was made an honorary member of IASP in
2016 and EFIC in 2018. He is also an Honorary Member of the Bulgarian, Ukrainian,
Moldovan and Lithuanian IASP Chapters.

He has been a Board member of the World Institute of Pain (WIP) and the World Society of
Pain Clinicians (WSPC); he is one of 3 Founder Examiners for the WIP's Fellowship of
Interventional Pain Practice examination. He was a member of the recent (2016) NICE
Guideline Development Group on low back pain and sciatica.

He is now retired and lives in the western Algarve, Portugal, running a Blueberry farm.

 

Patrons

Dame Lorna Muirhead DCVO,DBE,CStJ,FROG

 Mr. R. N. S. Bigland

Professor Sir Michael Bond, FRSA,  FRSE, FRCPsych, FRCPGlas, FRCSE

Management Team & Administration Team

Julie Williams: Charity Manager, Pain Relief Foundation.

Lorraine Roberts: Administrator, Pain Relief Foundation

Brenda Hall: Administrative Assistant, Pain Relief Foundation

Jo Stephens: Fundraising, Pain Relief Foundation

 

Pain Education

---

John Wiles:

Chairman of the Pain Relief Foundation Education Committee.

Julie Williams:

Lorraine Roberts:

Meetings & Courses Co-Ordinator.

Scientific Support

---

Dr. Caroline Staunton
Chairman of the Pain Relief Foundation Scientific Committee

---

Julie Williams:

Website Management

---