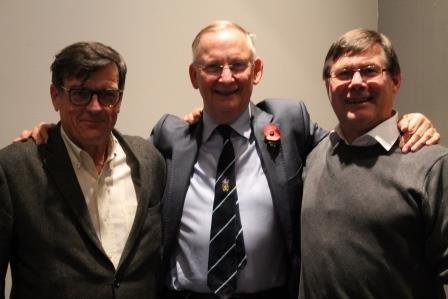 A VERY SPECIAL TRIBUTE
This year's very special lecture in honour of one of our founders the late Professor John Miles was introduced by Dr Chris Wells Past EFIC President, Specialist in Pain Medicine and Trustee of the Pain relief Foundation.
Professor Miles was a neurosurgeon at Walton from 1971 to 2008. He developed sub-specialisation within Neurosurgery in his own area of Functional Neurosurgery – which is movement disorders, epilepsy and chronic pain. He practiced lesional therapies for pain before technology made these obsolete and then became a pioneer of spinal cord stimulation for chronic pain. He was a co-founder of the Pain Relief Foundation in 1979. He introduced microvascular decompression for trigeminal neuralgia into regular UK clinical practice. He published extensively on microvascular decompression for trigeminal neuralgia; especially in areas of its neurophysiology and MRI imaging.
The lecture was delivered by Professor Turo Nurmikko who was a Pain Consultant at Walton Centre from 1995 and appointed the inaugural Professor of Pain Science at Liverpool in 2001 before retiring in 2011. He is a neurologist specialising in Pain Medicine. He was a founding member and President of the SIG in Neuropathic Pain of the IASP. He founded the Facial Pain Clinic at the Walton Centre with Professor Eldridge. He participated in many international guidelines on diagnosis and treatment of trigeminal neuralgia and has published extensively in this area.
A short appreciation of John's life and work was given by Professor Paul Eldridge  who was a Consultant Neurosurgeon at the Walton Centre Liverpool from 1993 who worked closely with John  before himself retiring in 2019.
The lecture was well attend by a number of Health Professionals, John's wife Enyd Miles and their sons David & Owen Miles.