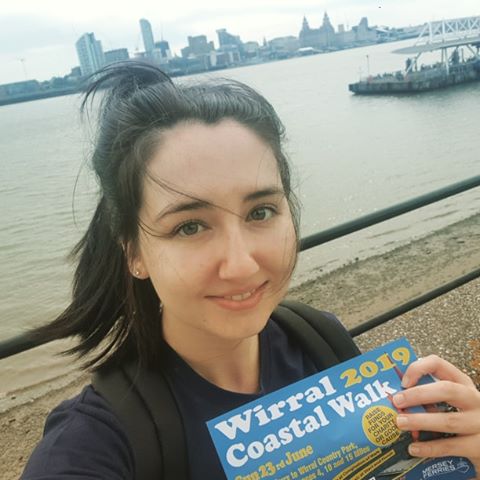 Emma does the Wirral Costal Walk 2019
A big thank you goes out to our superb regular fundraiser Emma Price for completing the 2019 Wirral Coastal Walk on the 23rd June.  Emma currently a PhD student at the University of Liverpool studying 'Investigating the role of retrotransposons in chronic pain. A  project  which aims to assess the impact of mobile genetic elements (retrotransposons) on gene regulation in sensory neurones. Emma kindly gives up her very limited spare time to help raise funds for the very underfunded research into human chronic pain.
Anyone wishing to make a donation can do so using the following link https://www.justgiving.com/fundraising/priceywalks
The Walk follows the Wirral coastline from Seacombe Ferry on the River Mersey to Wirral Country Park Visitor Centre at Thurstaston, a distance of 15 miles.
It is a fun event for walkers of all ages and abilities. Its main attraction, apart from the exercise and the opportunity to view the beautiful Wirral coastline, is that Walkers can raise money through sponsorship for the charity or 'good cause' of their own choosing. For many local organisations and charities, the Walk has become a significant event in their money-raising calendar.
A fantastic coastline ensures you enjoy your walk, starting off with views across the River Mersey to Liverpool and the huge docks complex, passing the small seaside town of New Brighton and onto a beautiful Beach lined coast against the Irish Sea before the final turn onto the more rural and peaceful countryside overlooking the River Dee.
There are many points of interest along the walk;-
Seacombe Ferry – One of the two remaining ferry terminals on the Wirral. Houses the recently opened leisure attraction of 'Spaceport'.
Site of 'Mother Redcaps' – Dating back to 1595, with its remains demolished in 1974, the haunt of smugglers with hidden cellars and caves reputed to connect underground passageways for miles around.
Fort Perch Rock – This little ' Gibraltar of the Mersey ' or the 'fort that never was' was built over 150 years ago to guard the Mersey estuary. Originally boasting 18 guns and with accommodation for 100 soldiers, it has never been called on to engage an enemy. It was camouflaged during the Second World War as a tea garden with painted lawns and paths.
Kings Parade – Said to be Britain 's longest promenade. A training ground for learner drivers.
Leasowe Castle – Built originally in 1593 by the Earl of Derby, it was once known when standing derelict as Mockbeggar Hall. It has been a Convalescent Home but more recently a modern hotel and restaurant.
Meols – The name is derived from an Old Norse word meaning sand dunes. Offshore, there are remains of a submerged forest, indicating that the Wirral Peninsular once extended well beyond its current coastline.
Hoylake – Derived from ' Hoyle Lake ', used in the 17th century as a point of departure for troops on their way to Ireland.
Kings Gap – So called because of its use by William II and his 10,000 men on their way to Ireland to fight the Battle of the Boyne .
Royal Liverpool Golf Club – Founded in 1869 and a venue for the Open Golf Championship.
Hilbre Islands – Once one island but now three joined together only at low tide. A Local Nature Reserve, world famous for its bird watching.
West Kirby Marine Lake – Well known for marine sporting events.
The Wirral Way – Once a busy railway line, closed in the 1960's but reopened for walkers in 1973 as part of the Wirral Country Park , the first of its kind in Britain . It offers scope for birdwatchers, artists, botanists, photographers, and walkers.