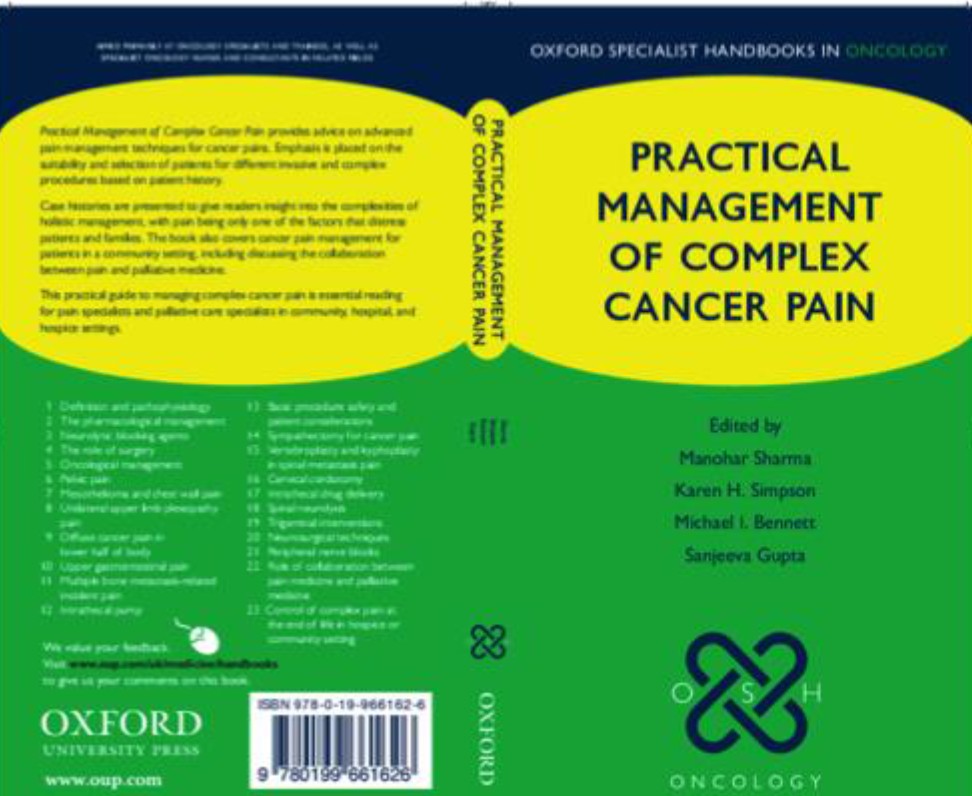 Practical Management of Complex Cancer Pain wins the BMA Medical Book of the Year
Edited by Dr Manohar Sharma, Dr Karen Simpson, Dr Michael Bennett, Dr Sanjeeva Gupta, Published by Oxford University Press in 2014.
(ISBN: 9780199661626. £39.99)
Manohar Sharma is Consultant in Pain Medicine at The Walton Centre for Neurology and Neurosurgery NHS Foundation Trust, Liverpool. Karen Simpson is a Consultant in Pain Medicine at Leeds Teaching Hospitals Trust.  Michael Bennett is St Gemma's Professor of Palliative Medicine at Leeds Institute of Health Services, University of Leeds. Sanjeeva Gupta is a Consultant in Pain Medicine and Anaesthesia at Bradford Royal Infirmary
The BMA Medical Book Awards take place annually to recognise outstanding contributions to the medical literature.
The Practical Management of Complex Cancer Pain book has been selected from 630 books judged in 20 medical categories. The award is made to the publication which was deemed to best fulfil the criteria of clinical accuracy and currency and which maintains a high standard of design and publication, the book was also awarded First Prize in the Oncology section.
The book gives advice on advanced pain management techniques for cancer pains. Emphasis is placed on the suitability and selection of patients for different invasive and complex procedures based on the patient's history.
Case histories provide compressive insight into the complexities of holistic management, with pain being only one of the factors that distress patients and families. The book also covers cancer pain management for patients in a community setting including, the collaboration between pain and palliative medicine.
This practical guide to the management and treatment of complex cancer pain is essential reading for all oncologists, pain, and palliative care specialists.