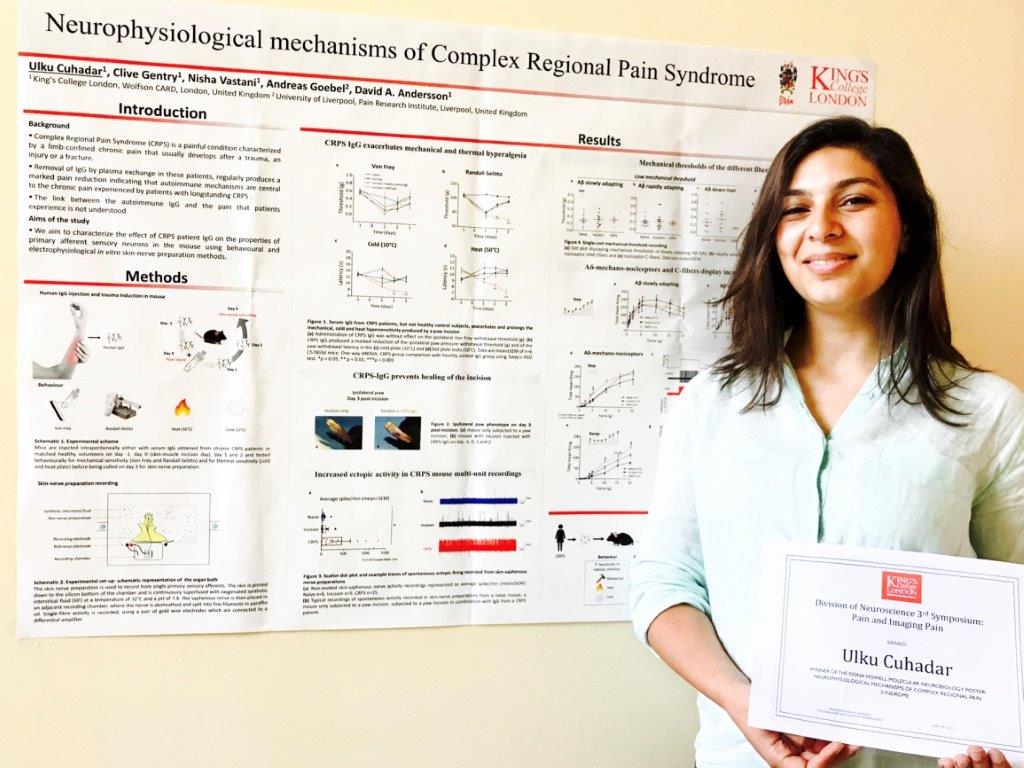 ULKU CUHADAR PHD STUDENT SUPPORTED BY THE PAIN RELIEF FOUNDATION WINS TOP MEMORIAL PRIZE
Many congratulations to Ulku Cuhadar another top class PhD student supported by the Pain Relief Foundation for winning the Fiona Howell Memorial Prize it is very well deserved.
Ulku is currently studying at Kings College London working alongside Dr David Anderson and Dr  Andreas Goebel.
Ulku is studying the Neurophysiological mechanisims of Chronic Pain Syndrome. The back ground of her study is Complex Regional Pain Syndrome (CRPS) a painful condition characterized by a limb-confined chronic pain that usually develops after a trauma, an injury or a fracture.
The removal of IgG by plasma exchange in these patients, regularly produces a marked pain reduction indicating that autoimmune mechanisms are central to the chronic pain experienced by patients with longstanding CRPS. Unfortunately the link between the autoimmune IgG and the pain that patients experience is not understood.
The aim of Ulku's study is to characterize the effect of CRPS patient IgG on the properties of primary afferent sensory neurons using behavioural and electrophysiological in vitro Skin-nerve preparation methods.
Ulku can be seen in the above photograph holding her prize certificate, alongside her poster presentation.