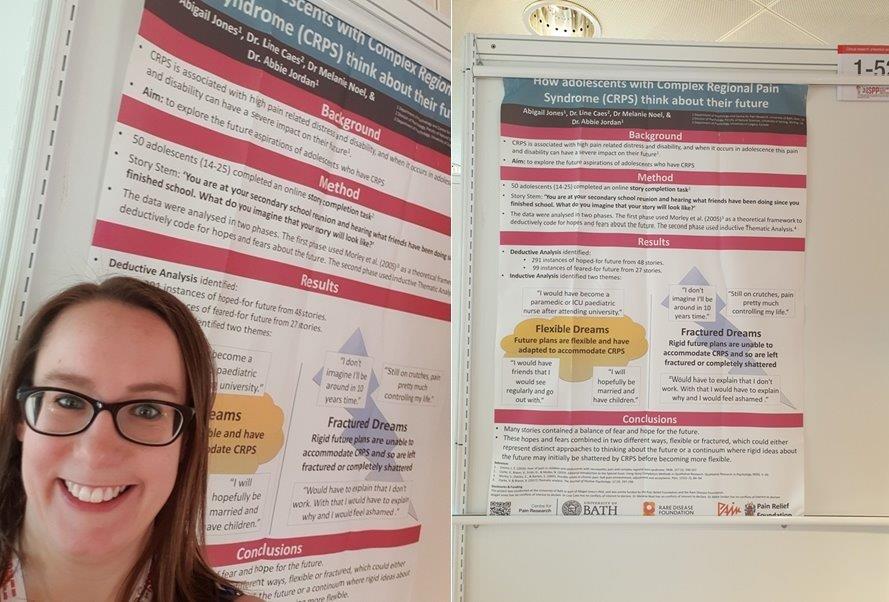 ABIGAIL JONES PRESENTS HER POSTER AT ISPP 2019
Abigail is in her second year of a three-year PhD studentship funded by the Pain Relief Foundation.
Abigail's PhD explores the impact of chronic pain on adolescent social development. She is based in the Department of Psychology and Centre for Pain Research at the University of Bath, and is supervised by Dr Abbie Jordan, Dr Line Caes (from University of Stirling) and Professor Chris Eccleston.
Abigail presented her poster at ISPP 2019 in Basel, Switzerland. ISPP is the International Symposium for Paediatric Pain, and is the largest international conference focused solely on paediatric pain. This year over 800 delegates from around the world attended, and Abigail was proud to present work from one of her PhD studies through this poster. The poster outlines the results from a study which used story completion to explore how adolescents who have Complex Regional Pain Syndrome think about their future.  Abigail's poster generated a lot of interest among the other attendee and was asked many questions. In her own words Abigail said 'this was an amazing experience'.