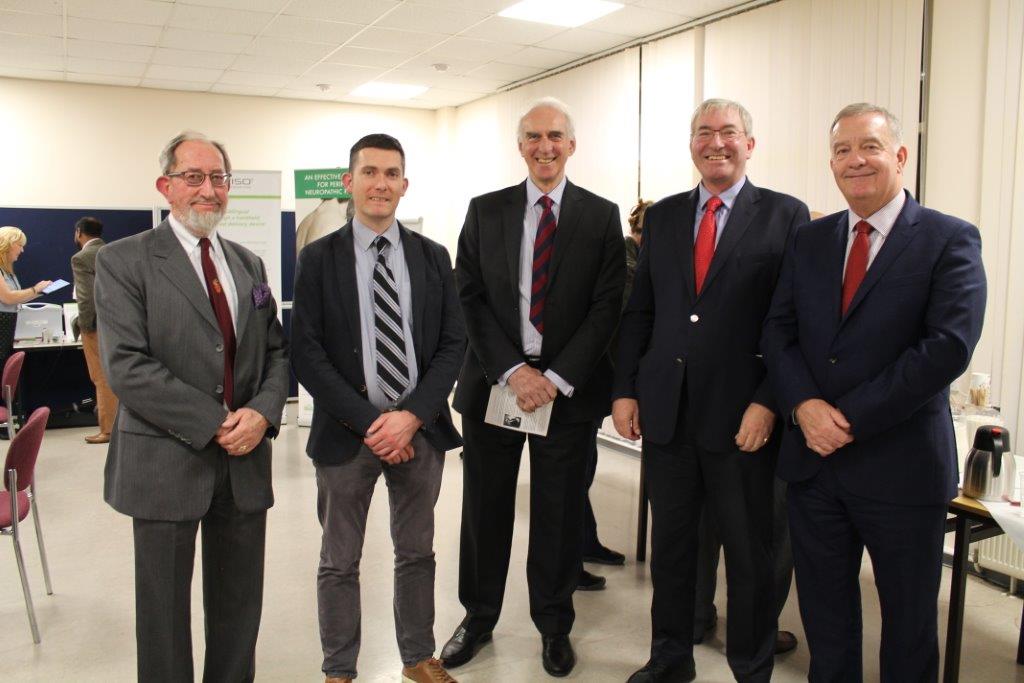 Cannabis, medical research, pain relief and the law – 18th in series of PRF Annual Lectures
( Photo from left to right Dr Tim Nash, Profesor David Finn, Sir Michael Bond, Dr John Wiles and David Cain Chairman of PRF)
With thanks to Dr John Wiles another success for the 18th in the series of PRF Annual Lectures
This years lecture was given by David Finn is Professor of Pharmacology and Therapeutics and Co-Director at the Centre for Pain Research at the University of Galway Ireland. His research aims to increase the understanding of the neurobiology of pain and psychiatric disorders including anxiety and depression, with an emphasis on the endogenous cannabinoid, opioid and monoaminergic systems. He is currently President of the Irish Pain Society and sits on the Scientific Advisory Panel of the European College of Neuropsychopharmacology. He has published 115 peer reviewed articles.
In  honour of the life and work of Dr Mark Swerdlow
This is the eighteenth of an annual series of lectures to honour those who have made an outstanding contribution to the treatment and study of chronic pain
Mark Swerdlow created the specialty of Pain Medicine in Great Britain. He was responsible for the formation of the Intractable Pain Society (IPS) fifty years ago, in 1967, which was later rebranded the British Pain Society. Born and bred in Manchester he set up one of the first Pain Clinics in the world in 1955 at Salford Hospital. He died in 2003 aged 84.
This year a short appreciation of his life and work was given Tim Nash, Consultant in Pain Medicine at The Walton Centre from 1995-2006. From 1994-1997 he was President of the British Pain Society, having been a Member of Council from 1982. He is a Trustee of the Pain Relief Foundation
Also the Patron for the PRF Sir Michael Bond gave a short speech to celebrate 50 years of the British Pain Society . Michael Bond was Professor of Psychological Medicine at the University of Glasgow from 1973 to 1998. He was knighted for his services to Medicine in 1995. He was President of the British Pain Society from 1999 to 2001 and Interim President from 2009 to 2010. He was President of IASP from 2002 to 2005.