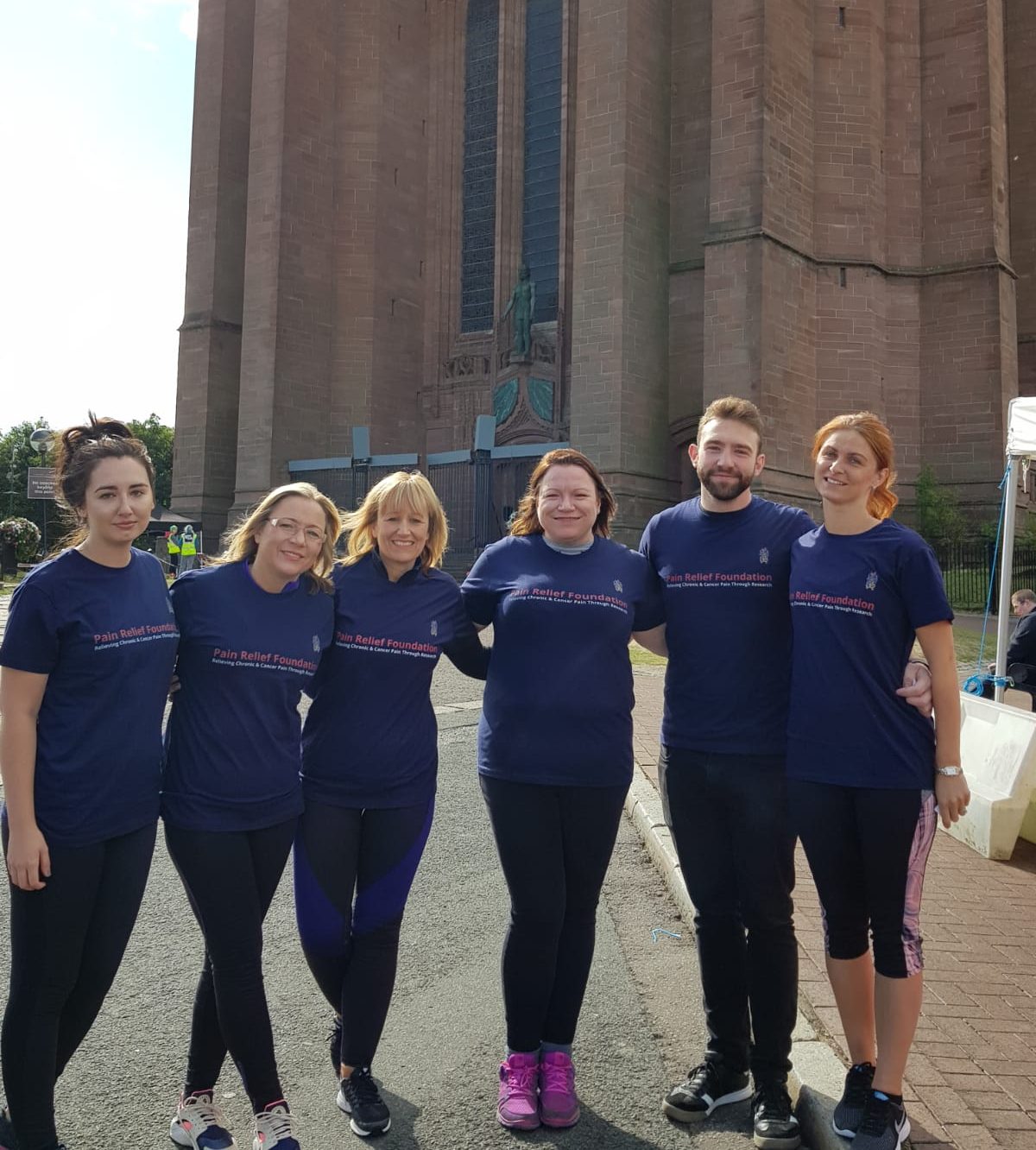 Pain Relief Foundation Scales Dizzy Heights
Jo Stephens our new Fundraiser has settled nicely in tho her role, we've had a small cake sale within the building allowing her to in introduce herself  and raised a little money too.
Next she set the ladies in the office, Julie, Lorraine and Hayley a task, along with volunteers Sarah Bennett, Emma Price and Jack Marshall all of whom have their own reasons as to why they would want to do this .… to abseil down the Liverpool Anglican Cathedral last month.. What a fantastic achievement! We've raised over £1,200 and we are still accepting donations via just giving page.
Sarah's Why ?
PRF relies entirely on charitable donations and fund raising. Chronic pain is defined as pain that lasts for more than 3 months. As well as physical impact, chronic pain can cause a number of problems affecting a person's well-being. These can include reduced activity, fear of further damage, worry, loss of confidence, isolation, relationship difficulties and much more.
PRF is helping people make positive changes to their lives to the full, in spite of chronic pain…." It's for this reason that I'm chucking myself over the side of Liverpool Cathedral, a.k.a abseiling".
Emma and Jack's Why?
Myself and my best lab buddy Jack Marshall are swopping our lab coats for a safety harness and abseiling down Liverpool's Anglican Cathedral (Britain's BIGGEST!!). This is to help raise money for Pain Relief Foundation. PRF funds my research at the University of Liverpool to help those suffering with chronic pain- and we all know somebody who is !! Please help us raise money and give back to this fantastic cause..
Lorraine's , Julie's and Hayley's Why?
To raise much needed funds, so we may continue to fund research into human chronic pain and its treatment, to provide an information service to chronic pain sufferers and patients on chronic pain conditions.
PRF are truly grateful for all donations big or small, they matter.
If you would like to do something to raise funds for us please get in touch. On 0151 529 5824 or email jo.stephens@painrelieffoundation.org.uk