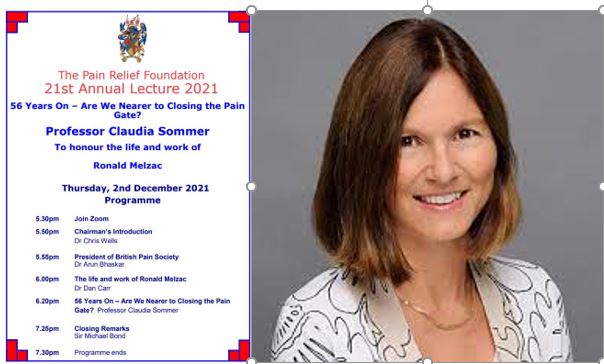 56 Years On – Are We Nearer to Closing the Pain Gate? 21st in the Annual Lecture series
This year's lecture was an online success and was well attend by a number of Health Professionals.
The lecture was introduced by Dr Chris Wells Past EFIC President, Specialist in Pain Medicine and Trustee of the Pain relief Foundation.
The lecture was delivered by Professor Claudia Sommer a Professor of Neurology at the University of Wurzburg, Germany. She is currently the President of the International Association for the Study of Pain. She holds Neuropathic Pain Clinics and her main research interest is in the pathophysiology of neuropathic pain. She is active in the development of national and international guidelines, for example on the fibromyalgia syndrome, on neuropathies, neuropathic and facial pain, and on the use of opioids. She has written more than 250 original research papers and more than 100 reviews and book chapters and has edited books on neuropathic and facial pain.
The lecture this year was given in honour of  Ron Melzac was Professor of Psychology at McGill University, Montreal. He and Patrick Wall revolutionised pain research by introducing the gate control theory of pain in 1965, which lead to the discovery of enkephalins and endorphins. He developed the McGill Pain Questionnaire and was a founding member of IASP in 1973. He died aged 90 in 2019.
A short appreciation of Stephen Morley's life and work was given by  Daniel Carr, a Professor Emeritus of Public Health and Community Medicine at Tufts Medical Centre, Boston, and was Saltonstall Professor of Pain Research. He is known internationally for his contributions to pain research, evidence-based pain medicine, and to the social and political aspects of pain.
The lecture was drawn to a close by Sir Michael Bond a Professor of Psychological Medicine, University Glasgow. He was Vice-Principal from 1986 to 1997 and Administrative Dean in the Faculty of Medicine, 1991 to 1997. He was made a Doctor of the University in 2001 and Patron of the Pain Relief Foundation.
Click here to see the Lecture