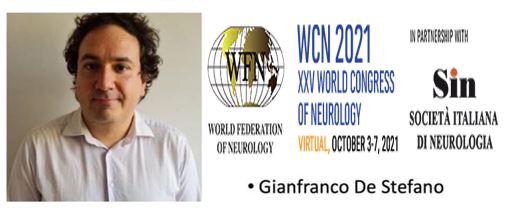 Congratulations to Gianfranco De Stefano
Well done to Gianfranco De Stefano for for winning
THE ANGELA VINCENT AWARD
For Best Young Neurologist Investigator from the region of the World Congress of Neurology
A single award of $1000.00 will be provided.
To be considered for this award:
Applicants must have submitted an abstract to WCN 2021.
Applicants should be neurologists in training or early in their career, have an M.D. or equivalent medical degree, hold a post not above that of Associate Professor, and be no older than 45 years of age at the time of the 2021 WCN.
Applicants must both reside and work in a country whose Neurology association or society is from the region of this World Congress (i.e. a member of the European Academy of Neurology); the applicant should also be a member (trainee or neurologist) of their country's Neurology association or society.
During abstract submission, applicants should upload their PDF CV with a supporting letter from their department chair (or equivalent).
No submission will be considered if this information is omitted.
The winner will be chosen by a subcommittee of the WFN Education Committee based on the quality of their abstract and review of supporting documentation.
We are pleased to announce the 2021 Winner:
Dr. Gianfranco De Stefano
Abstract: VASCULAR COMPRESSION IN TRIGEMINAL NEURALGIA DISCLOSES TRIGEMINAL ROOT SOMATOTOPIC ORGANIZATION
**The talk can be viewed in the session entitled: FREE COMMUNICATION: Neurooncology, Pain & Palliative Care