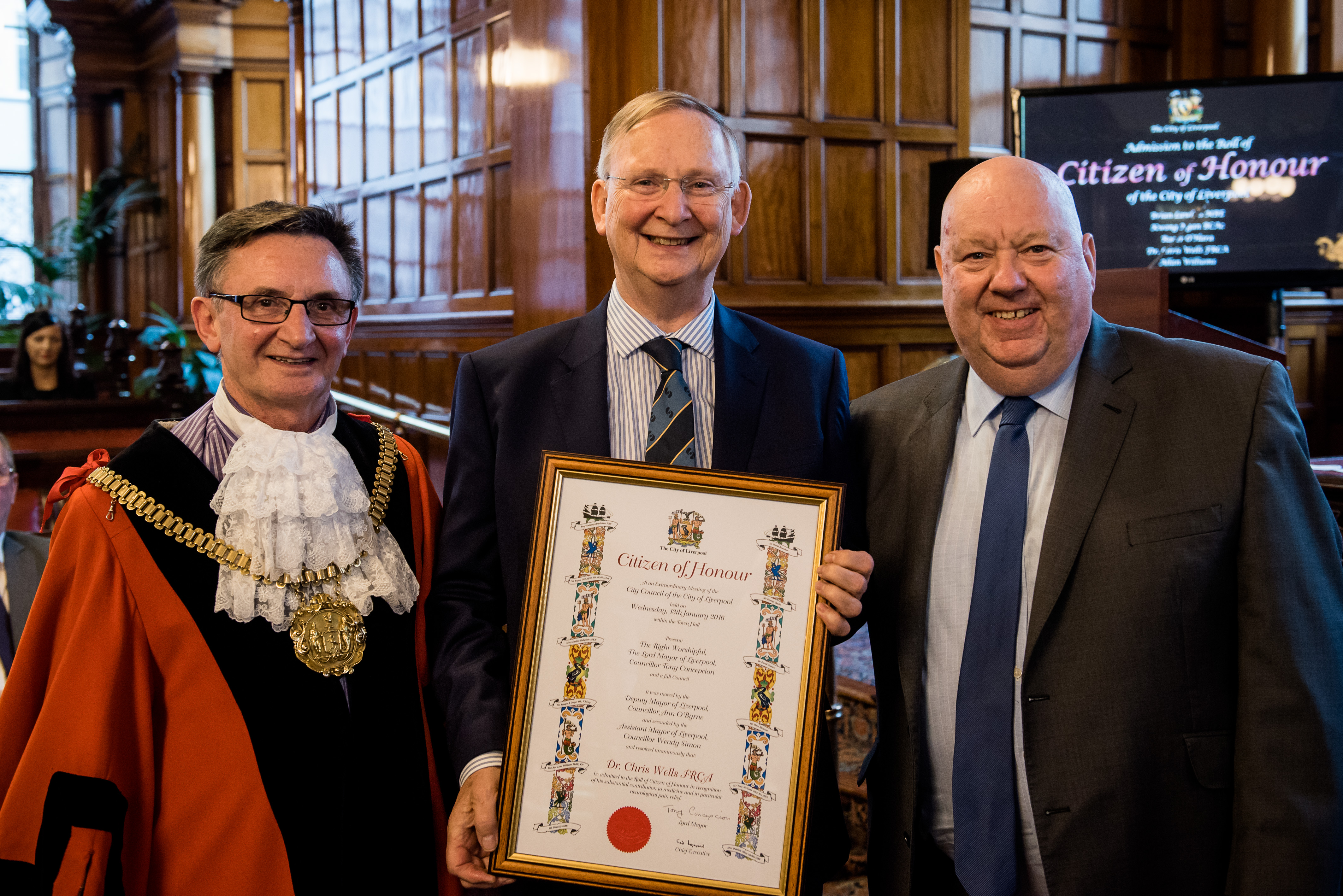 Dr Chris Wells awarded ' Citizen of Honour'
At a meeting recently arranged by the full City Council of Liverpool, to discuss the most notable people of Liverpool who have enriched life in the City, and from that meeting the full Council selected a number of the most notable people to receive and be awarded the very prestigious 'Citizen of Honour Award'.
In that outstanding list of Liverpool's finest citizens was medical pioneer Dr Chris Wells, Trustee of Pain Relief Foundation.  He was selected to receive the award being hailed as a pioneer in the field of neurological pain relief.
At an impressive reception in the ornate Liverpool Town Hall on 9th May 2016, with other recipients of the title, the Lord Mayor of Liverpool, Cllr Concepcion handed out awards during the ceremony.  Cllr Concepcion said "I am delighted to be able to pay tribute to recipients of the Citizen of Honour award for making an outstanding contribution to Liverpool life.  The selfless hard work and commitment in each of their chosen fields has made a huge difference to Liverpool and helped put the city on the map." Chris said that he was honoured to be given this award, and In accepting it, recognised the help and support of his colleagues over the years.
In a week of awards, we are pleased to announce that Chris was also appointed with Honorary Membership of the International Association for the Study of Pain (IASP), which is a truly prestigious accolade.
Dr Chris Wells is currently the President of EFIC and The European Pain Federation, the largest multi-disciplinary professional organisation in the field of pain science and medicine in the world. Established in 1993, it represents more than 20,000 healthcare professionals throughout Europe. In 2011 he was unanimously chosen as President Elect and became President in 2014. He lectures throughout Europe and the rest of the world on pain and its management and is actively involved at these meetings to reshape the face of pain management through research, evidence based medicine, education and innovation. He has initiated a multidisciplinary core curriculum in Europe, leading to a Diploma in Pain Medicine for all medical doctors.
He graduated in 1970 from Liverpool University. He was the first doctor in the UK to specialise solely in pain medicine in 1982, and he took over as Director of the Walton Centre pain service from Dr Sam Lipton from 1983 to 1994. Throughout his time at the Pain Clinic he pioneered new techniques to relieve pain.   In 1983, he set up the first continuously-running Pain Management Programme in Europe at the Walton Centre, which recently celebrated its 30th anniversary.  His clinical interests include the assessment and management of back pain and neuropathic pain. Dr Wells left the Centre in 1994, but has continued to practice in the Liverpool area.
Dr Wells was a Council member of the British Pain Society from 1995 to 1999 and was Secretary from 2000 to 2002.  He gave the Annual British Pain Society Lecture in 2008 and was made an Honorary Member of the Society that year. He started an international group of over 1100 doctors interested in neuropathic pain, NeuPSIG, a Special Interest Group of IASP©.  He was made one of 3 Honorary Members of this group in 2010.
He has been a Board member of the World Institute of Pain (WIP) and the World Society of Pain Clinicians (WSPC); he is one of 3 Founder Examiners for the WIP's Fellowship of Interventional Pain Practice examination. He is a member of the current NICE Guideline Development Group on low back pain and sciatica.