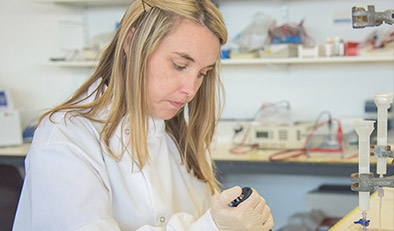 New Horizons for 2017
Exciting times lie ahead for the Pain Research Institute (PRI) with new working relationships on the horizon – one of which we hope will grow will be will be with the SomAffect Lab (https://somaffect.org/) in the School of Natural Sciences & Psychology at Liverpool John Moores University (LJMU).
The SomAffect Lab has an active interest in basic pain research.  Techniques used in include microneurography (this is  the only lab in the UK capable of recording and microstimulating single units), quantitative sensory testing (a we have a full range of QST equipment is used), neuroimaging (fMRI, fNIRS and EEG) and cognitive and behavioural measures.
There are close links with the Pain Research Institute and The Walton Centre NHS Foundation Trust (WCFT) as the lab has a Pain Relief Foundation (PRF) funded postgraduate student, ongoing projects with a cordotomy study with another PRF funded researcher, and a cortical mapping study supervised by another member of academic staff at LJMU aiming to preserve vital cortex in tumour resections). An exciting new capability in the SomAffect Lab is the appointment of a researcher with expertise in Transcranial Magnetic Stimulation (TMS) and Direct Current Stimulation (tDCS) – techniques that will be used in pain models. The Director of the SomAffect Lab is also Visiting Professor at the University of Liverpool's Institute of Psychology Health & Society and collaborates with pain researchers there.
There are opportunities to build a strong strategic relationship whereby the SomAffect Lab develops new insights into the neurobiological and psychological mechanisms of chronic neuropathic pain that can then be evaluated with access to clinical populations at Walton that can be tested at the PRI's neurosensory labs. Here there is the opportunity to share equipment, ideas and hypotheses, exploiting the long history of the PRI acting as a conduit between the clinical and basic research worlds.
Current research projects that would benefit from access to the PRI's Clinical Testing Labs include the following conditions: CRPS, Painful Diabetic Neuropathy, Fibromyalgia, pain in autism, and trigeminal neuralgia.